June 23rd, 2019 | Boston, Massachusetts
Amanda sat on the twin bed across from mine in the brick Brookline Airbnb we had rented around the corner of JFK's birthplace. We explored the home's charm of wooden staircases, open bay windows, and early 20th-century mystique and convinced ourselves that with updated plumbing, we'd raise a family here. Amanda was vaping in between texts and Alex lied on the floor tending to his online life. After a humid, extensive walking tour (think following a tour guide in colonial garb reenacting massacres) in downtown Boston deserved unspoken free time in the company of others back at home. I chose to use mine for personal grooming.
Something about a distracted family almost seems as if nobody is in the room. I could have said nothing as I tweezed at the deep-rooted splinter in my foot. My back curved, mouth opened, and drool began to form until I realized the abject intimacy I was presenting to a preoccupied audience. I apologized, bringing the spotlight directly to my act. They didn't seem to care. But I felt ugly.
However, the battle between the splinter and I would not end and my inner dialogue of self-loathing "you're disgusting" began. My concentration wavered from fixing the splinter to the now over obvious sensation that my hand gripped my feet like sweaty meat and smelled like a children's gymnastic room  (I speak from experience.) The skin formed around the splinter was nothing but a pinched callous I repeatedly tried to rip off. I never did get the splinter out. And I still felt ugly.
June 24th, 2019 | Boston, Massachusetts
The Isabella Stewart Gardner Museum displays collected paintings and artist relics in Gardner's once personal home. This museum is known for Gardner's 19th century travels to America, Europe, and Asia and the infamous Rembrandt heist in the '90s. Each room was designed for different artistic themes surrounding her centered, floral courtyard. In the galleries, security guards silently watched each individual as if the heist had left a suspicious scar.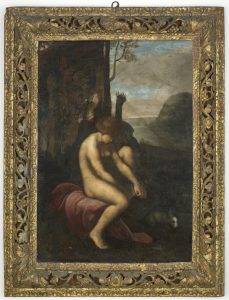 In the 'Gothic Room' thick, oval glasses were bridged across a security guard's nose. With assumption, I knew he was smart. I asked his favorite piece in the room. I'd figure if he spent his days there, one piece would continue to impress him. Walking with his wrinkled hands clasped behind his back, he pointed his nose at a few including a 14th century Giotto, explaining the genius of his time.
After going downstairs for polenta Milanese (in my description, fried cornmeal) I met up later with the same security guard, this time in the 'Titian Room'.  The red walls enhanced Titan's and other Renaissance Italian's gold-framed work. I asked him my go-to 'museum small talk question' again. With more eagerness, the guard toured me through the 3rd-floor gallery educating me on the history. It's when he stopped at the anonymous rendition of a female clouded in dark, curving herself, and tending to her feet, that his bushy broom mustache shielded his excited spit from hitting me.  He admitted this was his most treasured image,
a woman plucking a rose thorn from her heel.
Small gallery whispers that were once the loudest noise in the room were unheard while the guard explained more of Gardner's customizations. Curious others' questions faded me out until I interrupted with "Thank you, goodbye." The guard pounded the chest above his heart, raised his fist high, and curled his lips in gratitude.
Through writing this piece, I found the painting is a rendition of an earlier 16th century Marco Dente titled "Venus Wounded by a Rose's Thorn"  Even Venus, the goddess of beauty must pick at the ugly.