Once you've been inducted into the art of hitchhiking, rental car fees seem like a luxurious, unnecessary expense traveling many parts of the world. I should mention, or rather my fear of culpability wants to note, that I do not promote hitchhiking. I couldn't sleep knowing these flashbacks lead a dreamer in search of nostalgic tales to end up with an opportunistic murderer. Unfortunately, they are out there. Fortunately, I never met any.
Hawai'i:
Initiation:
I never considered hitchhiking on the 'mainland' it never occurred to me to try. Pennsylvania's suburbs mean you have a car, you know someone with a car, or you walk. Ideas to hitchhike don't gracefully descend from moon rocks, as was once thought believed, they come by someone simply offering you the ride. My cousin, John, whose first time hitchhiking was northbound through Appalachia, puts it this way, "You have about five seconds to accept or deny the ride. You really have to judge someone in five seconds. You gotta' make a brief status." In my case, a growling stomach decided to accept my first ride offer.
Before Uber was an impulsive choice, four hungry college students bussed to Taco Bell on a warm-winded, late-night. Kaneohe's section of Kamehameha Highway, (east side of O'ahu) despite all the shopping centers, gets dark. The saturated fluorescent light of open-late businesses only infiltrates Waikiki. To our dismay, the Taco Bell's dining area was closed only leaving those with a vehicle to order at the drive-thru. We walked to the window, giving our best automotive impersonations, and pleaded for burritos and churros. Our desperate requests were denied with an eye roll and a memorized monologue on policy. Hope was lost until a local man, hair tied into a low black ponytail, pulled up beside us slightly concerned that four, obviously fresh haoles were walking the dark highway late at night. If candy wouldn't convince us to get in the car with him, the promise of hot tacos did. Our savior from starvation shared his life experiences growing up on O'ahu with us. He seemed most proud of his role as a security guard which ran a stint as a reality show some years ago on a local channel. Bag of tacos in hand, he dropped us off at the gate to our dorms.
Hitchhiking is ethereal. Like the moments can be boxed, shelved, and opened for consumption later. Peering in and witnessing the exchange of open ears and destinations fulfilled. The chemistry is light when we play our roles as guardian and traveler (both adventurers) and feel a common singularity as independent people in this world who share the desire to love, give, and learn.  All within 15 minutes.
When one first starts to hitchhike they may experience 'shy thumb syndrome'
Shy Thumb Syndrome: [ shahy thuhm sin-drohm ] noun
1. When a potential lift passes by and the hitchhiker's thumb limps down in fear of denial or as if not wanting to bother them.
"When the car drove by them, her body froze and her thumb fell limp. She experienced shy thumb syndrome."
A smile is also non-existent, in fact, the back, when starting, might be sheepishly turned away from the road.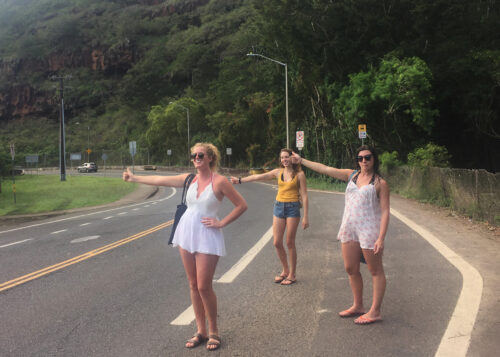 Eventually, one will learn confidence gets more responses. Wide smiles, walking backward, and even the consideration to flash drivers with your god-given headlights will occur.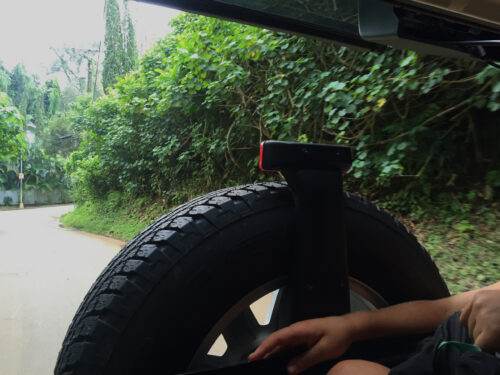 Hitchhiking became habitual. I used hitchhiking if I was late for work, jumping in the back of muddy jeeps after hikes, flirting with south-bound surfers, lying down in sandy truck beds, cramping into two-door cars with three extra people, or even hailing down tour busses stuffed with wide-eyed vacationers.
TheBus, Honolulu's award-winning public transportation still had my heart and daily commutes but it could often be over-crowded and chug longer throughout the island, especially to popular destinations. Public transportation, to us, also meant asking the public.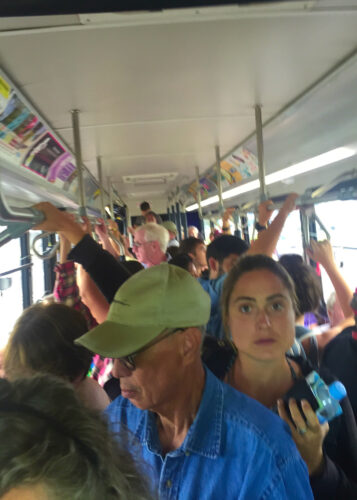 Visitor's itinerary often included the introduction to hitching rides, a way to experience the community's aloha. My friends, at first unsure of the ritual, soon found the adrenaline rush of running into the back of a truck before traffic stopped and boundless wind to be a memorable island experience.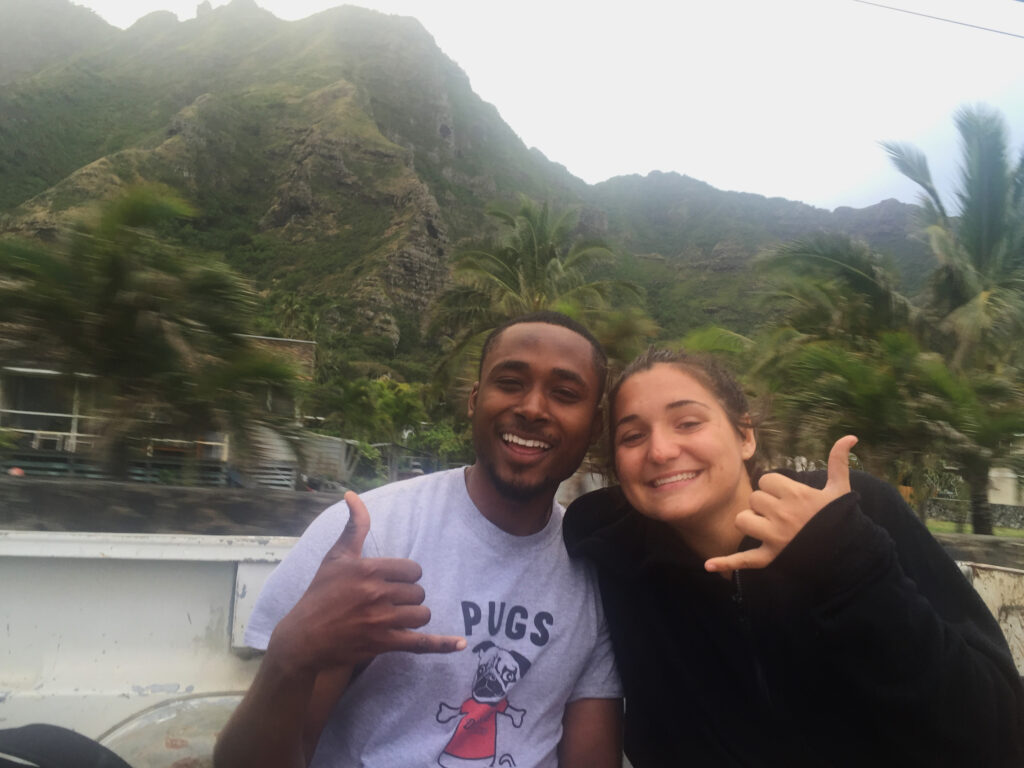 Fear:
Not all pickup stories can be romanticized. There are uncomfortable scenarios and signals of dangers that must be listened to. The gift of fear is a sense that has survived the cuttings of evolution for a reason. In these next stories, I was grateful to trust my instincts and be willing to hurt feelings before potentially hurting myself.
On the North Shore of O'ahu, Kamehameha Highway continues along irresistible beaches and savory food-truck lots as the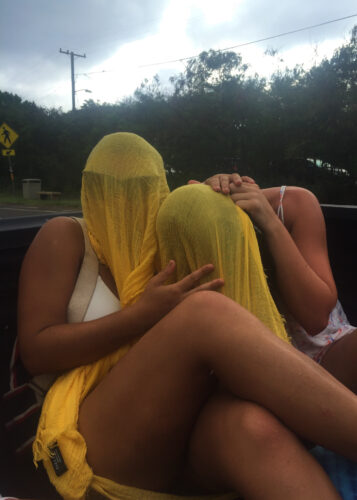 only main road. As a hitchhiker, this populous road is predictably safe with no unfamiliar routes. Perhaps after watching a surf competition or dozing off in the hot sand, my roommates and I were heading south again and hopped in the back of a pick-up truck. There wasn't much talking between the driver and us, the understood, silent agreement was we'd knock on the back window when we were ready to hop out. Suddenly, without warning, the driver, a short slender man, turned a sharp corner on an unpaved road. With dust flying up around us, we were reasonably confused and frightened when he opened up the back window and in a taunting voice said, "My parents always told me not to hitchhike with strangers. This is where the horror story begins." We were all quiet, flying down the road, waiting for the tension-breaking laugh that never came. He only continued to complement us in creepy ways, as if he might keep locks of our hair in jars. The road led us to a trash dump. Luckily, with other witnesses in the dump line. I immediately became angry, not at the obscure threat to young girls but at the long line he expected us to wait with him in under a cloudless sun…although the previous threat didn't help. Unsure of the next move, I allowed a little of my stashed anger to open up his window and call him an asshole for thinking this was a joke. We jumped out of his truck and walked the 20-minute dirt path back to the main road. He finished his dump and forcefully sped past us, obviously not a fan of our retaliation.
It's arguable to celebrate the 4th of July, a holiday of American freedom and independence on an occupied island. But the day off for Maddy and I meant surfing on north shore, meeting Eddie, a surfer who owned a house directly on the beach, and enjoying the ono grilled food, beer, and karaoke system offered to us as the sun set over Pipeline. Maddy sang three different renditions to Jeff Buckley's 'Hallelujah' before I pulled her out of the door to leave as she sang the last verse. I was wary of drunk drivers and after our first pick-up, who could only drive us down a few miles proved to be driving drunk, I became more cautious about whether waiting for the last night bus or even spending money on Uber was the safer choice. We tried one last car, who pulled off the road and said he'd be able to take us all the way back to downtown Honolulu. I was crawling into the back seat over mountains of trash when he shyly apologized that this was his work car. My hair stood up on my arms. My first thought as I spotted the empty 7-11 slushy containers and broken bento boxes was, "If this is his work car, what does his personal car look like?" It didn't matter that I may have misjudged him for a messy car, an adjective that could easily describe my car. It didn't matter that I immediately backed out and told him "Never-mind, we're fine. Thanks." even if it sounded abrupt. It only mattered that I listened to those few stricken hairs and walked down the dark highway with all my limbs.
Peculiar people also live in the most beautiful places. Beside Diamond Head Crater is a beach known for distant rippling waves for surfers. My salted tongue craved something sweet. As long as there are passing cars and thumbs, there are avenues to acai bowl cafes. This short, three-minute drive proved to be an abnormal solo adventure. A rusted red car with a friendly smile offered to take me down the street. He played punk music and had his windows down. By the time the slamming chorus hit, I happened to look over and see he wasn't wearing any pants. No coverage at all. Just a black t-shirt and a Jewish delivery doctor's work. Oddly, I didn't feel threatened. Just the witness to a bizarre lifestyle hobby. I was dropped off just down the street, as promised, unbothered. But it's enough to make the list of weird encounters and a warning of what can be seen while hitchhiking.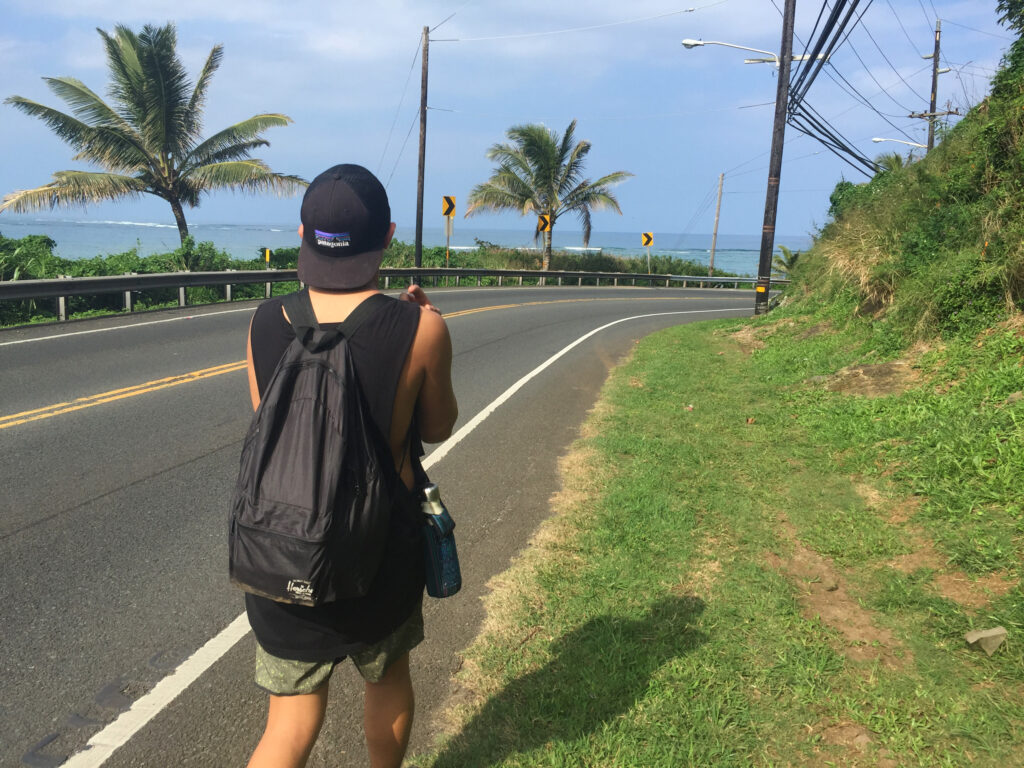 Many places have integrated hitchhiking as a common means to get around. In socialist Cuba, government vehicles are 'required' to pick up hitchhikers at "puntos amarillos" where many other local hitchhikers wait. In the nearby Caribbean island of Dominica, where I visited for some months as a volunteer, hitchhiking was also customary practice within the community. I'd meet pepper farmers, tour guides, and St. Lucian motorcyclists, who swept me through the mountainous, winding roads to my destination.
Dominica:
Strategy:
After a full day of shoveling dirt or mixing concrete, some of us would catch a ride down to Roseau, the bustling small capital of the island. Ted, a British volunteer easily compared to a flirtatious Austin Powers, accompanied us ladies who easily giggled at his clumsy antics. Typically, we were there to buy beer at IGA and to soak in the smells of baked bread and sounds of calypso pouring into the crowded streets. During the week, we had limited time before our nightly team meeting began. Hitchhiking up the steep hill back to our rainforest base was necessary for time. Sometimes, accessible help doesn't come easily, and walking strategically is encouraged. The sensual power of women is to never be underestimated when striving to get things done. Instead of Ted leading our group, we had him trail slightly behind so that us three women appeared to be unattached. Not soon after our plot began, a car with two men pulled over who both eyed us flirtatiously. In his excitement, Ted ran over to the open window, curling his finger around the door, and pleaded for a ride. We must not have mentioned the crucial next steps of Ted remaining unseen. The men quickly retreated their initial offer claiming there was no room, an excuse we knew was only for Ted's presence. We chuckled for the entire van ride (the local public transportation) we managed to hop on as Ted understood his pivotal mistake. We planned our next theoretical scenarios by having Ted hide in a bush or jumping onto the hood of the car.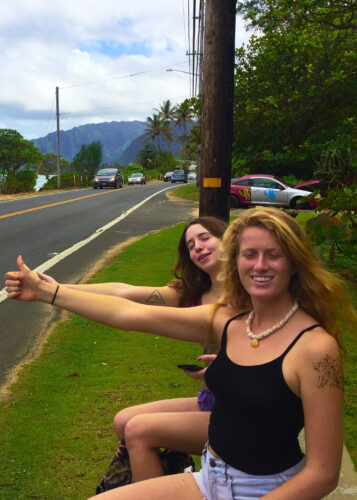 Déjà vu:
If there is a law against drinking and driving, the island does not enforce it. Often times, while hitchhiking, we'd stop for beer with our gracious driver at one of the numerous tiny shacks, either downing it immediately or savoring the flavor on the drive to the next shack.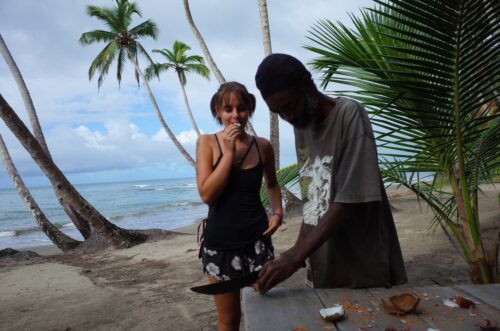 On a particular morning hitching to the beach (beer-less), we saw the consequences of too many shack runs, a flipped truck burrowed into a road ditch. Our group noted the odd exhibit and continued to Batibou Bay.  After hours of salt soaking and a local grilling us coconut meat (which included a proposal I had to decline), we began our thumb raising ritual in light rain. A young local made room for our damp bags and let us crawl in as we immediately connected to his energetic humor that poured out from his eyes.  Before we were to pass the flipped truck, one of us recalled the scene to him.
"I was in that truck when it flipped!"
The man explained he had been hitchhiking himself when he found a spot in the bed of the truck next to other hikers. He sensed the wobbled, drunk steering of the driver and knew the ditch ahead was their brake. He braced himself on the lip of the truck and leaped off before they rolled.
I was heartsick for those who may have been hurt but beaming with the coincidence of receiving the full story offered to us by the mystic island.
Accidental Video Vixen:
It's hard to explain the days where every hour can change your course dramatically. After a several hour-long hike to Boiling Lake, the second-largest hot lake in the world and terrain comparable to an alien planet, we muddled up the paved road near the entrance to begin our next hitchhiking journey. (I recognized this area, a few of us had been here before when we had ridden with a tour guide/ shop owner who introduced us to Spanish tourists waiting at his lodge. We ended up hanging out with them for the day)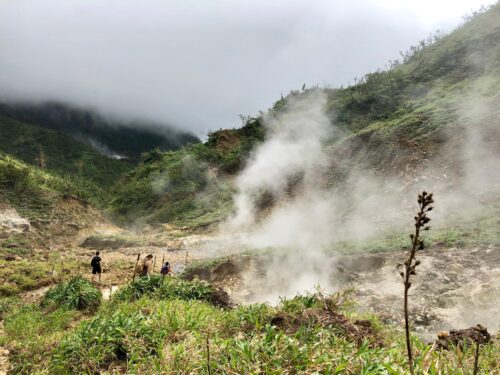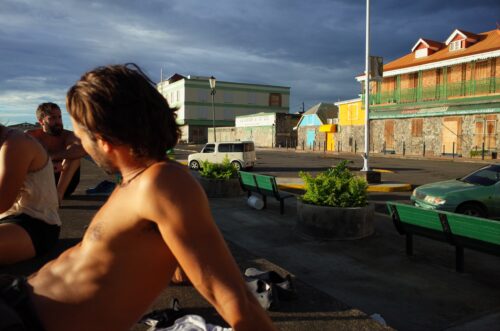 I powered ahead to meet with the tour guide, to say hello, and quite frankly, smoke a joint with him. Positive my friends would catch up the steep hill a few minutes later, we smoked and bonded with one another before I realized ten minutes had passed and none of my friends ever came by. I must have missed them while shopping for cookies. In an odd fever dream scenario, I finished climbing the rest of the steep hill to see well-dressed locals parked on the side of the road. The first question they asked me, "Do you know how to twerk?" I sarcastically yet cautiously asked them "Do you think I can twerk?" I kept walking, finally, down a hill when their caravan eventually passed by and offered me a ride. I told them I was looking for my friends and a few kilometers down the road, they were there, in a pack, continuing to walk. The caravan pulled over and I shouted to them from the rolled-down window. (imagine if I shouted with the window rolled up) They must have been confused to see their lost friend now pulling up with an entourage. We packed ourselves into the two separate cars. The car I was in mentioned they were filming a music video for the local band Signal. The twerking question now came full circle. They pulled over to a viewpoint asking if we'd like to be in the music video. I'm not sure they even finished the question before I screamed "YES!" My childhood dream came true and we didn't have to twerk to be in it. (Although, I gladly would have tried)
I imagine they cut our take.
In Literature:
Coincidentally, in Milan Kundera's "The Joke" I happened to be reading while writing this post, Kundera dedicates a paragraph to describe a minor character who defines two types of people by those who pick up hitchhikers and those who don't. While the narrator isn't quite kind to the whimsy lady at first, he ends up loving her distantly. Kundera writes;
"Miss Broz had shifted from Zemanek to herself and was holding forth on how she loved hitchhiking. She spoke about it with such emphasis (somewhat affected) that I could see at once that I was hearing the manifesto of her generation. Every generation has its own set of passions, loves, and interests, which it professes with a certain tenacity, to differentiate it from older generations and to confirm itself in its uniqueness. Submitting to a generation mentality (to this pride of the herd) has always repelled me. After Miss Broz had developed her provocative argument (I've now heard it at least fifty times from people her age) that all mankind is divided into those who give hitchhikers lifts (human people who love adventure) and those who don't (human people who fear life), I jokingly called her a "dogmatist of a hitch."
New Zealand:
Meeting the Family:
As a solo traveler, you can move on a whim whenever, wherever. I had arrived in Aukland mid January. Within four days, I attuned myself to "Kia Ora" greetings, attended the Fat Freddy's Drop concert, and frequented art museums and noodle shops. By Friday, I was escaping city clamor by bussing to Hamilton, the midway point to Raglan, a sleepy surf town, and my weekend destination. Hamilton to Raglan is a 35-minute drive but was a two-hour bus wait when I arrived. Mule to my own bags, I schlepped towards the ramp going west towards Raglan. I took notice of the cartoonish-looking gun shops and mystic healing centers that lined the industrial side of town. Everything I brought to New Zealand was on my back and my creaking spine was beginning to take notice. As each car passed and the sun was lowering, I was a bit nervous that after 30 minutes no one was picking me up. Someone informed me there was a better pick-up spot for Raglan and he dropped me off. There, an older dairy farmer picked me up. I told him I had only been in New Zealand for a week. I asked him what he was doing when he was my age.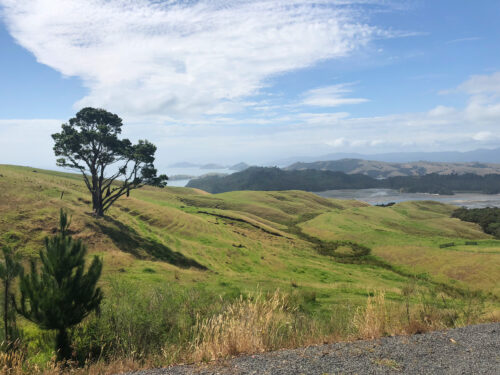 At 23, he had married his wife after they met in church. In fact, it was their anniversary that week. Driving by fields, the tips ofgrass dried by the sun, he taught me about his work and dairy farming technology. How soil, can somehow, impact milk production. Details I remembered for about three days then lost forever. The air thickened with salt as we got to closer the coast. The dairy farmer invited me back for coffee with his wife. He was fragile enough to take down if his wife didn't exist, I thought. Sure enough, his wife existed and was happy to put on the coffee and set out a platter of cheese. Classic dairy farmer snacks. Their ranch house was fit for a couple that could overlook the ocean until their last sunset. On the T.V a Māori woman gave a speech in her native tongue. Here, I learned that many people, including their ancestors, had come from Scotland and settled here in the Waikato region. Mrs. Dairy Farmer was proud that New Zealand made a point to teach the Māori language to students and when it was on she'd watch the news in Māori. They both wished me safe travels, travels I had no concrete plans for. He took me the rest of the way and dropped me off at the hostel like a father drops off his daughter at school.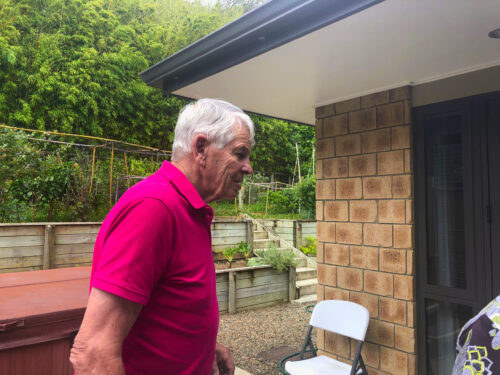 Hate Groups, Road Crew, and Girls:
Confident with my abilities as a veteran hitcher, I convinced my new, cute travel partner (more to be written about) at the beginning of our South Island trip to trust that I could get us from Picton to Christchurch, a 4 hour and 44-minute journey, solely by hitchhiking. Kai had never tried to use the kindness of strangers for a ride and I assured him the best and kindest people are behind the wheel. In Picton, near a ramp-sign reading "Christchurch" a sleazy red car pulled over and rearranged his car for our belongings. He was wearing a 'Berlin' sweatshirt and had a cartoon sushi sticker slapped on his surfboard. I sat in the back while Kai small talked in the passenger seat. Piece by piece, our host began to unravel as a bit unusual. He showed off his police radar for "speeding purposes" while swaying over the double yellow lines. A rock hit his windshield, a common occurrence driving through many construction zones in New Zealand. This rock cracked his windshield and he began to curse loudly. This was the second rock to break his windshield this month. I couldn't help but feel, despite the probable incident and my lack of Hindu dogma, that this was karma at work. His reckless driving left me relieved when he pulled over in his small town. Kai got out, waited for him to pull off back on the dusty road when he said, "I can tell you something about that guy."
"Hmm?"
"He was a Nazi."
Kai recounted what he managed to see from his peripheral of the front seat, S.S rings, S.S thigh red ink tattoos, and this man's consistent praise for Kai's German blood. Turns out, cartoon sushi stickers don't make someone kauai, they make them a potential Nazi.
Despite the run-in with a hate group member, I encouraged us to keep trying. At this point, we didn't have another option. Many vehicles passed us. A parakeet-green Jucy (yes, Jucy not Juicy) camper-van, usually rented to tourists, finally turned around for us. Printed on the van was Lucy, a redheaded pin-up mascot, blowing a kiss. I prayed to Lucy in lieu of a religious icon, a makeshift saint of safety. Corby, a bearded traveler from Colorado was happy to lend us a ride. He worked with Florence and the Machine as a video director for on-tour shows. This was his two-week break before the production headed to Europe. Corby was in his forties and revealed his desire to write novels, his lost love to an alcoholic woman, and our shared love of dirty guitar solos. Corby recognized the budding relationship between Kai and I and advised us on enjoying new love in full capacity. The best thing about meeting strangers while hitchhiking is knowing the temporary relationship we hold with them. Sometimes, these people, more than close relationships, will know our deepest emotions because we know the encounter will dissipate shortly like the flurrying dust from their tires moving back onto the road.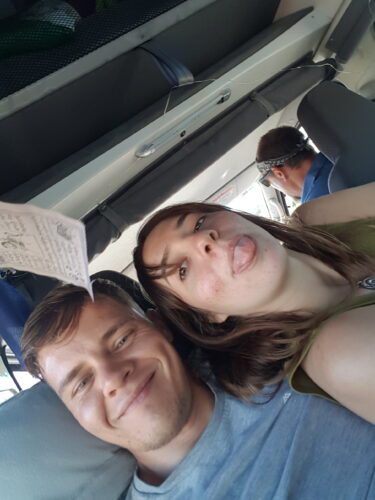 We thanked Corby by buying him a coffee at a bar in Kaikoura, a spectacular coastal town with white-capped mountains and Dr. Seuss-esque trees. Our table outside was near paint-chipped butcher shops and closed boutiques. I left Kai and Corby to use the restroom. When I came back out, Kai and Corby were gone with only Kai's photography bag left sitting on the chair. It confused me because knowing Kai for just a few weeks, I knew he'd never leave valuable possessions unattended. Kai and Corby came back just moments later laughing. The misunderstanding was anxiety over a dubious plot. Corby caught me up. After I had left for the bathroom, Kai needed something from the Jucy van and took Corby's keys. Corby panicked and believed we had set up a sting. That I would leave for the "bathroom" while Kai obtained the keys for "something" and we'd be off in the Jucy van leaving Corby behind with a staged empty bag and a stupid look. My neck could have snapped by how far I threw my head back laughing. Those who pick up hitchhikers are also vulnerable. They must let gut feelings steer their direction or call upon Jucy Lucy for guidance.
Pennsylvania:
There isn't any need for me to hitchhike in mainland America while I have a car nor does it seem appealing in a culture that teaches you 'stranger danger' However, I've paid it forward. I've picked up people who didn't have their thumb raised out. Either in cold weather or clouds about to burst. Once, I tried to ask kids walking back from a grocery store parking lot if they needed a ride. Slowly and with disgruntled faces they back away from my car. It didn't help that I sped off as soon as I realized the offer was unusual in suburban Pennsylvania.
My mother nearly faints when I recount times I've hitchhiked. If what they say is true, about traveling standards raising as you get older, I see many of my relaxed notions to rely on this art will begin to fade. Although, when I'm in Dominica again, I'll be sure to hitch with the pepper farmer.