I've relied on the culture of courting to resuscitate dying 'tell-us-about-yourself' conversations.
I'll ask "What's the best date you've ever been on?" Many times people will respond with "I haven't been on too many dates" or "not any exciting ones" I'd like to argue you can make any outing an enticing date. Even if the other party isn't aware it's a date…
October 2014 | Kailua, Hawai'i
I count this as my first official date because it included picking me up at the door and dropping me off. The only missing timeline was my mother pulling out naked baby photos while I sat in a prom dress.
I was new in Hawai'i and lived in the Kaneohe freshmen dorms tucked into lush mountain and boar crowded pathways (Once a boar took on a pizza delivery man and ate the pepperoni slices in front of our dorms as a warning to all)
A few weeks in, our Friday night tradition of bussing to Kailua beach to drink and skinny dip in moonlit water was a freshmen ritual. (Hopefully, you know we were all too insecure to actually be naked in front of new friends but nakedness and the moon sounds too poetic not to write)
Word got out to young, local Kailuans that a crop of wild-eyed, drunk college students were partying and soon they joined us taking shots in the night, wondering who brought a speaker, and convincing taxi drivers we were sober enough and not too sandy for a ride home.
It's how I met Chris* and my memory begins with us in the salty water, counting to three before we were to hold our breath and douse ourselves into the ocean for a competition of lungs. The moonlight was only bright enough to know he was blonde and his nose was shaped like an arrow. At "three" we didn't dive, we leaped towards each other for a kiss. His swim-trunks brushed like seaweed on my skin while we innocently exchanged drunken kisses.
We exchanged texts the following week and I was nervous to see the face I smooched now in daylight.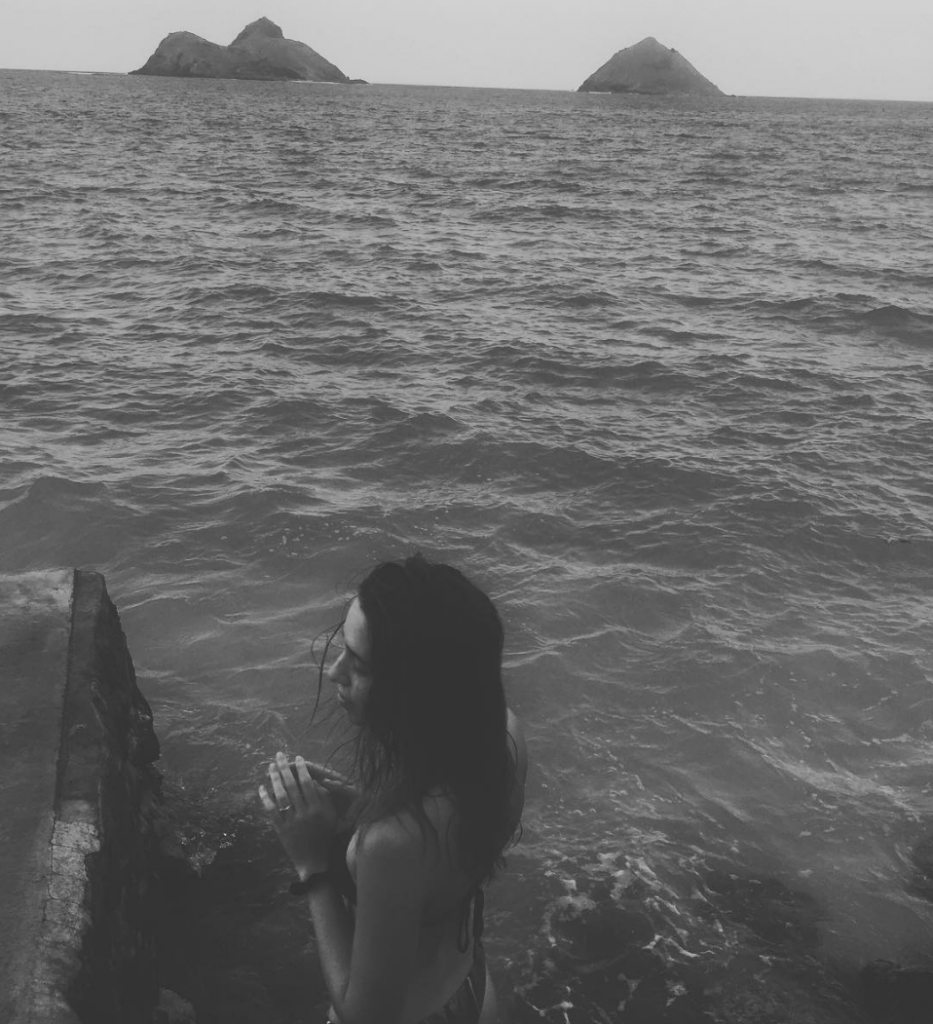 Next Friday, after sufficient time to internet stalk, he picked me up in a tan, borrowed truck. The bed carried a two-person kayak, a bundled fishing net, and surf wax. Chris opened the door for me and my memory flashes to us bobbing the kayak towards the clear shoreline. Our destination was the Mokes (Na Mokulua), the bosom islands set off of Lanikai beach. With the ocean more like a lake, we landed effortlessly at the left Moke (Moku Nui).
My personal tour from a boy whose childhood nights were spent camping on the tiny islands already felt nostalgic. His feet were calloused from a lifetime of walking rocky Hawaiian surfaces. Chris sped gracefully through the piercing pathways to the back of the island, his tan was shades darker than the rock. I teetered achingly, trying to form my pained grimace into a smile as I felt the pointed rocks puncture the arches of my tender feet.
I caught up and Chris lead me to a high cliff to jump from into the frothy cove. We did this a few times as I toughened to the slight sting that reddened like an apple on my bum. The waves splashed and foamed against the crescent dikes as we waded in warm water looking for shells.
We walked along the tall edges of the island drying off as we avoided the U'au Kani seabird nests hidden in the long grass. Chris told me the volcanic coned island is their sanctuary. His whispered stories of the islands soothed until we noticed the first stars break through the sky.
Again, my memory blinks to the fast kayak paddle back to land, blanketed under galaxies and space junk orbits. It was easy to imagine ancient Polynesians mapping their direction with stars towards the Hawaiian chain for the first time. It was also easy to envision I would've been the one to stay home next to a dancing fire.
We bobbed the kayak back to the truck with little light left as it crawled behind the mountains. On the drive back to the dorms, Chris pulled over and plucked a Hawaiian ti leaf from the bush. He crafted the stem into a makeshift piece to smoke weed from, breaking the stem in half and connecting them as each end slid together like a puzzle. With the charm of an unaware veteran flirt, he drove with his knees, smoked from the piece with his elbows wide, and introduced me to Slightly Stoopid's "2 AM" on Kalanianaʻole highway.
I kissed Chris goodbye as the last of the salt stains appeared on my arms. We met only a few times more afterward.
I messaged him a short "thank you" for still being one of the best dates. He was able to remind me of the small details I had forgotten.
November 2017 | Prague, Czech Republic
Diluted obsession is the seed for many growing dates. Sam rushed into Anglo-American University's first newspaper meeting of the fall semester. His lateness confirmed his sexiness while I agreed with his low black ponytail, unimpressed gaze, and film camera strapped around his body.
A tall, Norwegian blonde steered the student meeting time to painfully obvious, high-pitched (albeit adorable) questions. It was Sam that broke the curse with an intelligent question about deadlines and photo credit. In a psychic stare, I envisioned our romance unearthing Prague together.
My feet clopped into action when Sam left rather quickly for the tram. Like a city threat, I tried to follow him closely. I was across the street when the red-trimmed tram doors to Smichov closed behind him. I sardined myself onto the opposite tram that funneled itself past the Charles Bridge, kebab shops, and the Dancing House to Vinohrady and planned my next day's outfits.
The university sponsored a social with free wine and beer (oh, how I love Europe) in the square courtyard that Friday. Sam stood with a small group of boys in the designated smoker's area next to the roaming peacocks and white rose bushes. He was close enough to stain the roses a smoke yellow. No 'eye footsies' were made despite my best attempts to be as noticeable as the peacocks.
A dread-headed Danish girl exchanged Facebook with Sam in ear-shot. Like a TV detective who needs to stretch the plot in an hour-long episode, I befriended the girl instead of confidently approaching Sam. Requesting the Danish tom-boy on Facebook granted me access to her new friends, where I found Sam, finally uncovering his name.
Over the next weeks, I waited for Sam nearby because I learned (read: stalked) we'd cross after a Tuesday morning class. As the typical poster child for "kool", Sam rarely showed up for this class. I'd spend days by the smoker's area bench listening to full Erykah Badu albums but never craved a drag waiting on him. 
The middle of October required plush sweaters and acceptance that my semester abroad was living quickly. On a final defeat with Sam not showing up, a trait I saw as sexy-mysterious, my conjured annoyance turned to technology. I messaged him on Facebook during the tram ride home with excitement. I felt my blood may burst through my pores and splash the smudged windows.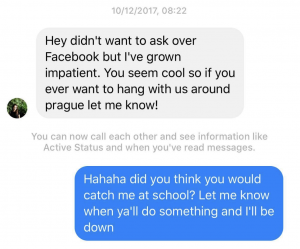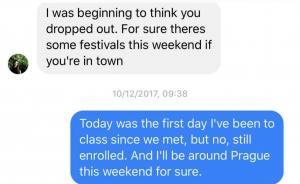 Sam took the bait. Through several missed connections due to Sam's stubborn anti cellphone plans, we met nights later dancing in the basement of a Cuban bar.
We'd meet up throughout Prague the rest of the semester experiencing diverse cultures of Latino bars, Vietnamese neighborhoods, and French roommates. 
A particular date we often joked about was one of our firsts. I waited for Sam in Malonstranké náměstí, a baroque filled square near our university.
The clouds hugged the holy crosses towering towards the grey sky. Across the cobbled street where the tram tracks laid like zippers after work locals sipped coffee. Sam was unreachable unless on wifi. I shivered colder watching full cups of hot energy sink with the same locals redressing in their coats and scarves to catch the next tram.
45 minutes later I'd promise myself that with each tram if Sam was not on it, I'd leave. Twenty trams later, I still sat in the same metal chair.
Sam finally rushed off into a wall of wind. I let him look around just until the tip of his nose glowed red. He was grateful and more surprised to see me at the public tables with a smile. He apologized for being late. It turns out picking up that week's worth of marijuana across town in Žižkov takes longer than one would anticipate. I easily accepted that excuse.
In Ohio, Sam worked as a catering chef. His stories made my stomach growl on the fast shit-talking walk to his roommate filled flat. I was taught the main door code and the trick to using the janky elevator.
Burnt roaches lined the window sill next to a collection of patriotic lighters and dirty cups.
A pretty girl was smoking with the window open watching the sun's last glow on the mosaic depiction of Czech kings on the church roof directly across.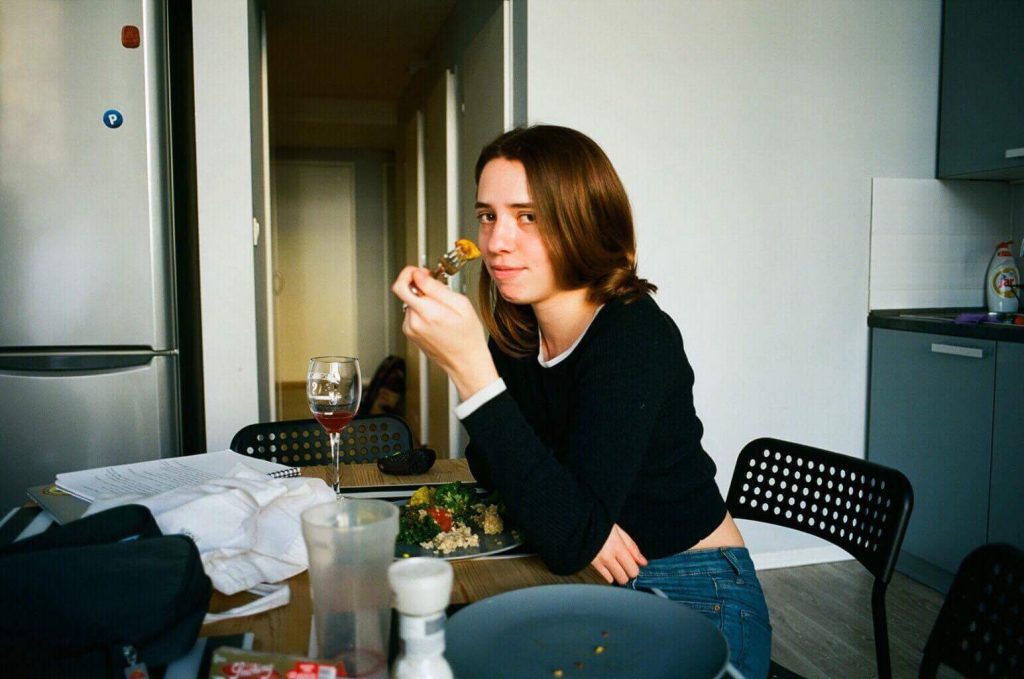 Sam began to roast turkey and boil pasta as I introduced myself to the room. A busty, short French girl investigated me. I'd already heard the rumor that her out of town boyfriend wasn't aware of her drunken nights with another of the roommates. I smelled her jealousy over the wafting turkey for two.
The room was silent enough to translate the grumbles coming from the other's stomachs. I noted the awkwardness that made my chews sound like screams. Sam and I ate while the others watched at the table only gazing from their phones to see if portions were left-over. The French girl requested Macklemore. Not even a popular Macklemore but a B-side Macklemore that didn't pair well with our evening pasta and silence.
I offered to throw the dishes out the window but Sam agreed to clean them in true good-host fashion. As soon as the chore was done and a poorly improved attempt to ask Sam for help in a separate room, we stifled our laughs over the unspoken acknowledgment over the tense air in the next room.
I haven't gone on a date in front of an audience since.
May 2018 | Los Angeles, California
I was the most nervous for this date as there was ample time to build a distant lovely fantasy that Alex* and I could be artistic, poetic lovers. He ran a quality produced podcast with guests I actually admired, he was witty yet emotionally vulnerable, and he liked that when I first met him I thought he was an asshole.
We met in Champaign, Illinois when I was a visiting student for an annual film festival. He was the youngest festival presenter and I was jealous of his small notoriety. But when he came out to the bar with the other fellows afterward, he was relatable, humble, and we set each other up for good jokes.
In true romantic tragedy, we found ourselves flirting with other people during the festival week. On our last drunken (do you notice a theme?) night, we danced to Amy Winehouse and confessed our crushes on a walk. I liked the way he tucked his long hair behind his ear when he was nervous. We didn't kiss in respect of our other flirtations. (I have different views now.)
We'd talk on the phone a few times a week until he invited me up to NYC for work when I anxiously declined his offer for no particular reason. We didn't talk much after that except my occasional texted rave review for a podcast episode.
I continued to listen to his guests; Corrine Bailey Rae, Malcolm Gladwell, and his Mom. Alex's voice was soothing and becoming less nasally as I pretended many of his on-air answers were directed towards me on a candle-lit date. (I suggest everyone to get to know crushes through their podcast.)
*** A year later, I was still listening to his show and finishing my last semester in Hawai'i. I was to stop in Los Angeles, where Alex lives. I had called him prior for podcast advice and invited him to meet up.
The night we were to meet, I was visiting my cousins at UCLA's dining hall unable to devour the Chinese endless buffet because my stomach was twisted in nervous pre-date knots. My breath was short and the shaky sensation of trying to get the hard plastic water cup to my lips without spilling was a new mental exercise. Through my cryptic, apologetic texts to Alex, he also noticed my anxiousness.
My sister-cousins (cousins who I've come to think of as sisters) drove me 45 traffic-heavy minutes to an LA bar where they met Alex. I nervously laughed and threw murder jokes into the silent spaces. My cousins mentally noted his physical attributes (you know, in case of murder and to calibrate cuteness) and hugged my shaking body goodbye. He guided me through the single person lanes of the dim-lit bar back to the table he already occupied. Alex's hair was now longer and it almost reached the pocket of his brown blazer.
I listened to the time he interviewed Woody Allen as if I didn't read the Playboy article multiple times. I also tried to tell him his on-air self-criticisms were unnecessary. He invited a friend over from the next table to talk with us and I listened to how he proposed with a custom made puzzle to his fiancé and his warnings to never move to an overcrowded Los Angeles. It didn't occur to me the invited friend may be a safe choice to define our meetup as strictly a friendly meetup.
Alex hurried the last of my whiskey coke down as he shuffled me abruptly to his car to meet friends in Koreatown for karaoke. He played Ella Fitzgerald through Hollywood and Nat King Cole while we circled the block for parking. I slowed down our walk towards the next bar to remind him of our missed kiss in Illinois and how I waited a year to go on this date.
Alex was surprised and agreed to call our outing a "date." We both awkwardly narrated our surroundings before we kissed under a bright laundromat sign. He hummed "I'm horny." I wasn't disturbed, I was too, but it did make me pause. I didn't say anything as we continued to find his friends near the karaoke backdoor. I hugged them all, in tipsy confidence that they too were my new friends. 
Inside the personal belting room, low-back leather couches circled the television with Korean models shuffling as the screensaver. Bottles of flavored sake were ordered and all five of us started with a fuji apple sake shot.
I volunteered to go first on one condition; that the only other girl sings with me and that the song was to be Simon & Garfunkel's 'El Condor Pasa.' The poor lady had to guess the melody as I tilted my head back to sing "I'd rather be a hammer than a naaaaiiiiiiillllll!" The sake was potent. I realized my lack of audience captivation but tried to finish strong.
During song rotations, Alex and I would comfortably flirt on the couch, the kind where you don't have to think about whether or not to touch their knee or squeeze the indent of thighs. The rest of the room slowly seemed to disappear as we sang Usher and Alicia Key's "My Boo." We stood close by the lyrical screen linking our pinkies and singing like old lovers reuniting (per the song's theme.) I let my voice crack on Alicia's high notes and figured Alex might find it courageous. 
The karaoke bar was closing and droplets of sake, crinkled napkins, and dignity was left on the coffee table. Without proper plans, I let Alex drive me back to his place in a suburban LA neighborhood. Like any date, some minutes took place in the car with the low headlights on and soft music playing under our (mine) drunken tales.
Alex wouldn't have expected my college-era 'boy traumas' to arise in mind. The kind where a younger self was insecure in whether or not to please a guy. The best way to combat past memories was to hoist my legs over Alex and begin to kiss him while smothering him into the beige driver's seat.
He interrupted to ask if I'd at least like to take my black wedge boots off as they were getting stuck in the door's side compartments. I ignored. I also ignored his offering to show me inside to a more comfortable setting. With the unspoken idea that hooking up was behind his front door and with the car feeling smaller, our kisses began to taste of my snot. I was crying. I was drunk. I was drunk crying on a guy's lap in his vehicle at 3:00 am.
"You're acting like a sex robot. You didn't respond to anything I said." Alex said concerned before he questioned why girls always feel comfortable to cry in front of him. That was my second pause of the night. I imagined the other poor sex robots crying in a montage. Alex has probably comforted emotional girls on bulb-blinking Ferris wheels, ski lifts, and inside noisy arcades by the Jurassic Park pinball machine.
Alex was gentle with me when I decided I would get an Uber home. We waited outside together hugging until my driver pulled up. Alex opened my door and kissed me goodbye. I introduced myself to my Uber driver and spilled the beans before he made the first left out of the cul-de-sac. I didn't mention my sexual robotic tendencies.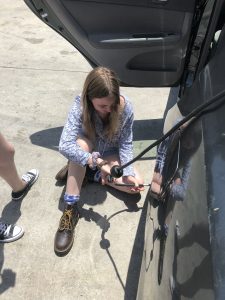 I was mortified meeting my cousins back at the hotel admitting I was at fault for an awkward end to the evening, mortified the entire next day when we pumped air into my cousin's car tire and Alex texted me asking if I was alright and assuring me he had a great night, and mortified I never came up with a saving response. 
I groaned until I was able to mourn to my mother over chamomile tea in Pennsylvania. Nothing makes a bad date better than hearing about a worse date. My mom once hangover-puked four times on a train track in Berlin (one of those pukes almost getting hit by a train) on a first date and was never called again.
I texted Alex months after to remind him that night was not an emotional norm but my embarrassment was beginning to dissolve. His response was unmemorable. Though I still send texted praises for his art. 
July 2018 | Harrisburg, Pennsylvania
Nolan* approached me at my hometown Irish bar. I gave him three "no"s until his fighting case turned kind of cute. He had a stupid smile that emerged whenever I tried to convince him it would never work out, the same smile that appeared after his successful rapped verse to Tupac over the jukebox. A rush of "why the hell not"  and a severe eye-roll raised over me.
In honesty, our first few dates over beer merge with the other gel-spiked black hair dates over beer I've been on. The usual small talk of music, nightmare themes, and my spaced out internal monologues of how to cut this date off painlessly were the highlights of the evening.
I took one last date with Nolan when he remembered my impulsive Nashville purchase of rollerblades. (An interesting purchase that lead to swing night at a club in East Nashville) It was sweet and we held and un-held hands as I sped faster in the ring. I watched on the side as he participated in the evening's lap race. I admired when he fell like a newborn horse, sprawling all of his limbs on the waxy floor. He still managed to finish third against the eighth-grade boys.
At this point in my life, I was still communicating most efficiently by body language. Contorting my torso away from him to signal dating would not go on any further. My method was irresponsible and I still begrudgingly accepted his invitation to end the night bowling.
Nolan agreed to meet me at my local bowling alley on Eisenhower Boulevard. Only our communication was wrong. The bowling bar did not include Nolan but two oval bellied patrons who were amused at my missed connection. I called a defeated sounding Nolan who pleaded to meet me there in 10 minutes. I wanted to tell him I was of little interest but what came out was that I was too tired to bowl anyhow.  Not saying what should have been said dates ago made me sweaty. I called him back leaning against the trunk of my car in the packed parking lot.
"Nolan, I'm leaving soon and don't want to be invested with someone." He understood and replied with hope that I'd message him when I returned to town. He held silence through the phone when I told him "I love you as a human" and perhaps that sentence gave him sweet relief and insight that he was no longer escorting a closeted hippie.
I never texted Nolan when I returned home. And I haven't accepted a date I knew I wasn't interested in again.
*Obvious name changes